Upcoming Events
Please see below for a list of events from the PREPARE Institute, PREPARE faculty, participating centers, and other affiliated or unaffiliated programs related to pandemic preparedness.
---
Nobel Symposium in Medicine
COVID-19: The First Great Pandemic of the Twenty-first Century
Hosted by the Royal Swedish Academy of Sciences and the Norwegian Nobel Committee
Bergendal, Sollentuna, Sweden 
May 22-25, 2022
PREPARE faculty speaking on Tuesday, May 24, 2022:
Shane Crotty, PhD - "Understanding Adaptive Immunity and Memory to SARS-CoV-2 Infection and COVID-19 Vaccines." 
Davey Smith, MD, MAS - "Making the Next COVID-19 Therapies." 
---
CHARM Research in Progress 
Hosted by the Collaborative to Halt Antibiotic-Resistant Microbes (CHARM)
Research in Progress is a forum for graduate students, postdocs, and project scientists exploring new innovative solutions to the growing antimicrobial resistance (AMR) crisis.
Kristen Valentine, PhD - "Generation of new mouse models of SARS-CoV-2 infection." 
Medhi Nasr, PhD - "Targeted Nanomedicine Against Pulmonary Bacterial Infections."
Zoom
Thursday, February 17, 2022, 9:00 am PT - 10:00 am PT
Click here to join Zoom
---
International Proteolysis Society Symposium: Proteases in SARS-CoV2 Infections (Virtual)
Hosted by the International Proteolysis Society (IPS)
No cost
Thursday, January 20, 2022, 8:00 am PT - 12:00 pm PT
PREPARE Faculty: Anthony O'Donoghue, PhD
Click here for more information and to register.
---
Salt in My Soul - Film Screening and Discussion (Virtual)
Hosted by the UC San Diego Center for Innovative Phage Applications and Therapeutics (IPATH)
No cost
Tuesday, February 1, 2022, 4:00 pm PT - 5:00 pm PT via Zoom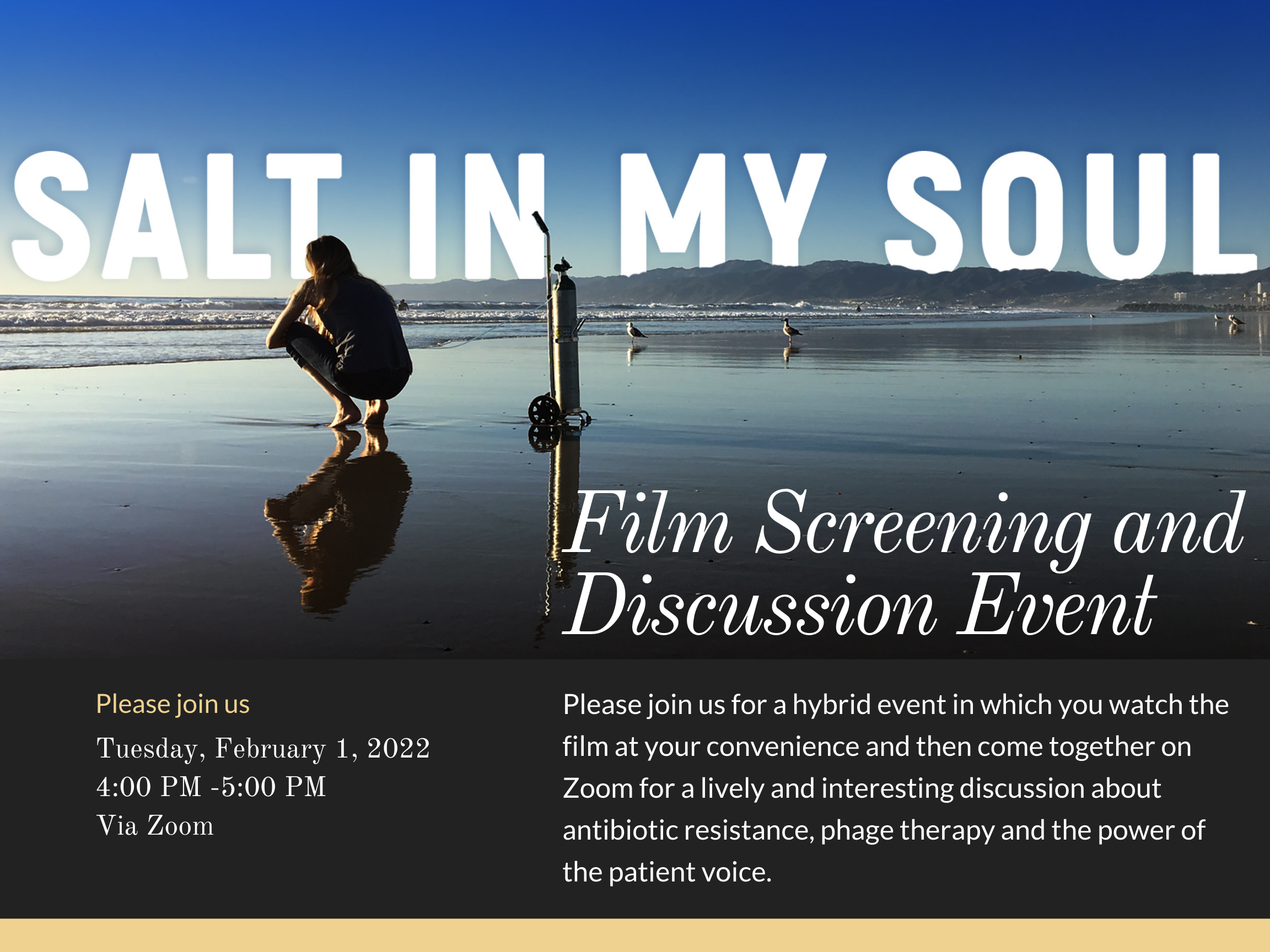 Salt in My Soul, a new documentary based on the best-selling memoir of the same name, provides a rare look into the mind of Mallory Smith, a young woman trying to live fully while dying of a rare superbug infection and cystic fibrosis. This event focuses on the growing problem of antimicrobial resistance, a theme throughout the film, and hosts a panel including IPATH's phage therapy experts and advocates to discuss this potentially life-saving therapeutic.
PREPARE Faculty: Steffanie Strathdee, PhD, Robert Schooley, MD, and David Price, MD, PhD
Please register as soon as possible, as there is a limit of 200 streaming codes to share with guests
Click here for more information and to register.
---